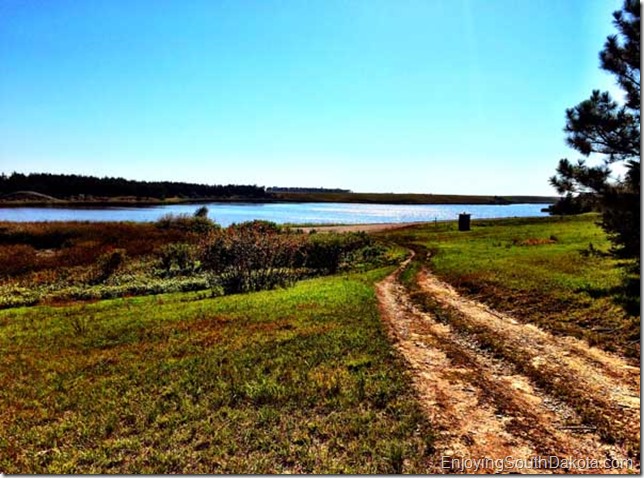 Wilmarth Lake is located in Aurora County in Eastern South Dakota.  The 103 acre lake is about 10 miles north and 4 miles west of Plankinton.  It was constructed in 1936 as a WPA project and named after Fred Wilmarth who had farmed in the area since 1906.  The lake is filled by Firesteel Creek.
I'd never been to the lake before and my daughters were ready for a little road trip, so we went to visit Lake Wilmarth.  We arrived at the Lake via Highway 281.  We turned west on 243rd Street and continued about 6 and half miles to the lake.  It is a nice lake in a quiet setting.
There are two access roads.  One on the far east end has shore access and along the dam and near the spillway.  The Northwest access area has a vault toilet, dock and boat ramp.  It is a nice wild life area with mature trees and plum thickets.  There is some private land on the north side of the lake, watch for the no trespassing signs.
According to a 2011 GF&P survey, the lake is home to Largemouth Bass, Bluegill, bullheads, yellow perch, black crappie, northern pike and sunfish.  The lake is a no wake lake, meaning boats may not travel any faster than 5 miles per hour.  There is no beach.  Shore fishing could be a bit tricky in places as cattails surround the lake.
I see this as great place to go canoeing or teach your children how to kayak.  I doubt there is every a large crowd at the lake.  Just a great place to enjoy the water and do some fishing.