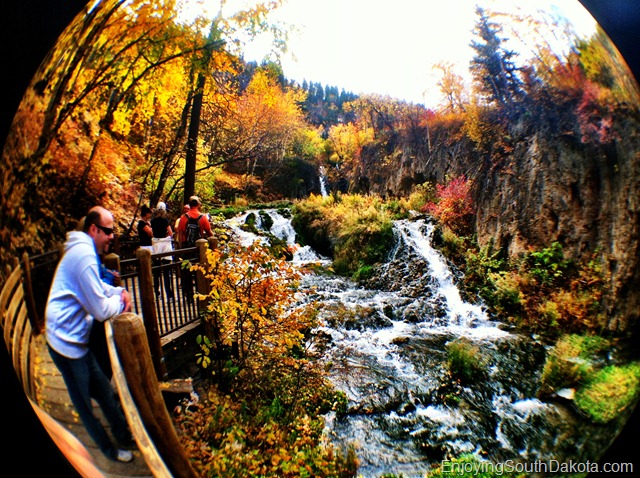 Spearfish Canyon is known for its beauty and its waterfalls.  This section of the Black Hills National Forest is absolutely breath taking.  Most of the waterfalls are easy to see from the road, others you will have to hike to find them.
Bridal Veil Falls
With the new viewing platform, this waterfall is easy to find.  Right along the scenic byway and plenty of parking.  You may even spot some ice climbers in the winter.
Roughlock Falls
This may be the most popular of the falls.  You can drive to the falls or enjoy the 1 mile hike from Savoy.  An amazing site all year long, you can even snowshoe there.
11th Hour Gulch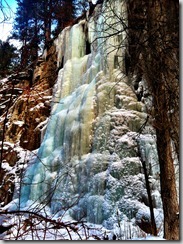 This isn't much of a waterfall in the summer, but in the winter you will find some really cool ice displays.  Just off the road near the dice, watch for it.
Community Caves
Here is another place where the waterfall is just barely a trickle in the summer, but is magical in the winter.  The huge frozen columns of ice are jaw dropping, this is one of my most favorite places in Spearfish Canyon to visit any time of year.
Little Spearfish Falls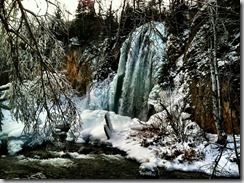 Found just behind the Latch String Inn at Savoy, this is great waterfall.  All year long, this is a neat place to visit.  A winter wonderland in winter and a lush forest in the summer.  Don't miss this one.
Annie Creek
Here is a small waterfall off the beaten path.  Take the time to hike to Annie Creek and you will probably have it all to yourself.

South Dakota on Dwellable
Spearfish Canyon is a natural wonderland.  And, it is public land – yours to explore.  Get out there and enjoy it!