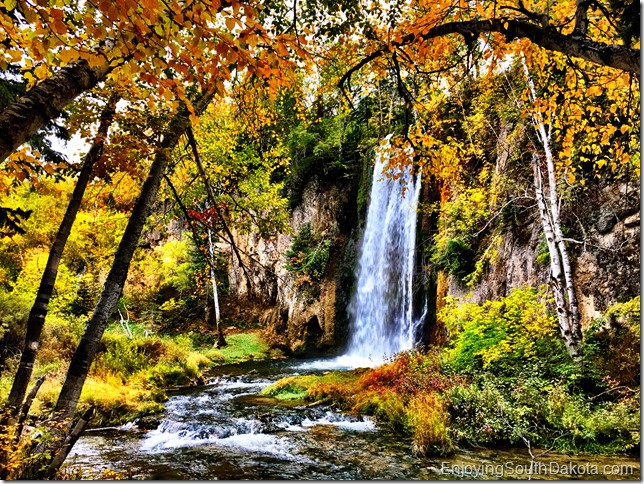 Spearfish Canyon is beautiful anytime of year, but fall is my favorite. The vibrant fall colors really accent the natural beauty of the area. There really is something for about everyone. An afternoon drive, maybe a hike early in the morning while the air is really crisp or a short evening hike.
Take a drive
The Spearfish Canyon Scenic Byway is 20 miles right through the canyon. It a great way to soak in all the fall foliage. There are plenty of pullouts and places to stop along  the way. You'll drive right by waterfalls and some of the most beautiful areas of the canyon. If you follow the signs at Savoy, you can drive the the Roughlock Falls Viewing area (about one mile off the byway).
Go take a hike
There is plenty of hiking in the canyon. Some of the most beautiful are accessible to hikers of most skill levels. Hike to Spearfish Falls is a loop that is a 1.5 mile total hike and does not disappoint. You are rewarded with a great view of the waterfall above.
Roughlock Falls Nature Trail is also an easy hike about one mile one way. It is a great walk along a stream to the falls.
There are choices if you'd prefer something a bit more challenging too. The 76 trail is only 3/4 miles one way, but has an elevation increase of nearly 1000 feet to the top of the canyon.
For even longer day hikes consider Little Spearfish Trail, Rimrock trail or the Old Baldy Trail. All great options to really spent some quality time enjoying the Black Hills National Forest.
More Information
I have many posts about my trips to Spearfish Canyon. I try to share pictures often and report trail conditions.
Visit Spearfish has loads of information.
The Black Hills National Forest has maps, current forest and trail conditions and more.
Black Hills the hike, a nice resource with a local's perspective.