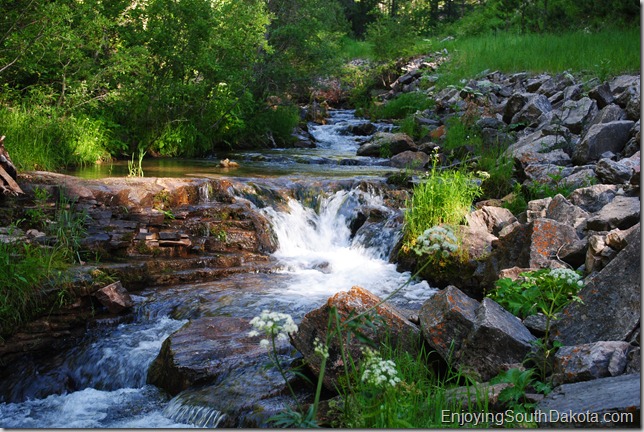 Hiking in Spearfish Canyon is much easier with a map. Do you want to do some exploring of Spearfish Canyon on foot?  Good, that is a great way enjoy all the canyon has to offer.  The tricky part is finding all the great hikes.
Anytime I'm out exploring the Black Hills, I carry my copies of Black Hills National Forest Map Pack: Topographic Trail Maps
.  The maps are great.  They are waterproof and many trails and trailheads are market on them.  Plus, they have both the Mickelson Trail and Centennial Trail marked in detail.  The major trails for hiking in Spearfish Canyon are marked too.
The trails that are not found on the above map, I've included in my interactive Black Hills Map.  The map has hiking icons, click on them and a picture of the hike appears.  Click on the photo and your are taken to a related post with a trail description and detailed directions.

View Enjoy the Black Hills in a larger map
My favorite hikes in the canyon include:
Community Caves – also know as wildcat caves, a short hike – but so neat.
Devils Bathtub – A great place to beat the heat on a hot day.  Amazing limestone walls
11th Hour Gulch – Just on the Scenic Byway and a cool place to explore.
Iron Creek – you can hike this all the way to Iron Creek Lake if you want.
76 Trail – great view of the top of the canyon
Little Spearfish Falls – short hike to see a waterfall
Roughlock Trail – One mile trail, great for children
Get out and explore the Black Hills, The Black Hills National Forest is over one million acres of public land for you to explore!