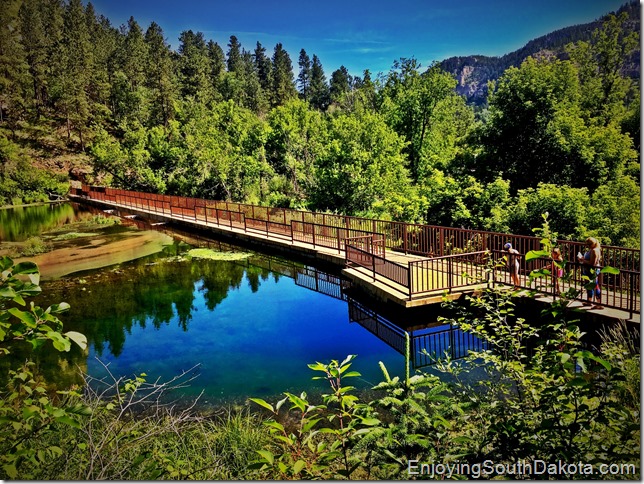 You can drive to Roughlock Falls, but if you have time, the hike certainly adds to the experience.  The one mile hike along Little Spearfish Creek is a great way to soak in the beauty of Spearfish Canyon.
There is very little elevation change from the beginning of the trail (just behind Spearfish Canyon Lodge) all the way to the base of Roughlock Falls. It gives you a chance to view wildlife and plants found in the canyon.
Look for the signs past the parking lot of Spearfish Canyon Lodge.  There is a parking area and a vault toilet.  There is no fresh water available, so be sure to bring plenty of your own. Snacks and a jacket are a good idea too. You will see the small intake pond (pictured above) near the start of the trail. Roughlock Trail is great way for people of all ages to enjoy Spearfish Canyon and see one of the waterfalls in the area. When you reach the falls, you will find more vault toilets and several picnic areas. In the winter the road is closed to vehicles as it becomes part of the snowmobile trail, but you could still snowshoe to the falls.
Roughlock Falls is managed by the South Dakota Department of Game, Fish and Parks. Admission is free. Visit their website for more details.
Below is is just one of the many maps and signs found along the trail.