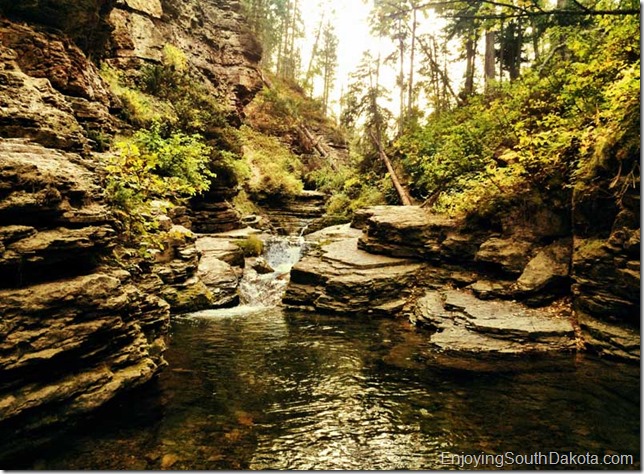 Devil's Bathtub is a great hike found in South Dakota's Spearfish Canyon.  This is just one of the neat places to visit when in the Northern Black Hills.  Spearfish Canyon has a lot of unique natural features that are certainly worth exploring.
I didn't have a lot of time to go hiking recently, but knew I could get one or two quick hikes in.  I picked Devils Bathtub and Spearfish Falls.  There are lots of areas in the canyon I love to visit, but it had been awhile since I'd been to the tub.  It really isn't a long hike.
Directions to Devil's Bathtub
From Spearfish it is really easy to find where the trail starts, once you know what you are looking for.  As you are traveling south on the scenic byway, you want to watch for the road "Cleopatra Place."  It is just a few miles south of Bridal Veil Falls.  Pull into the small gravel parking lot.
Walk over the bridge across Spearfish Creek, then head right.  You will see the trail.  There is some private land here, be respectful and be sure to pickup all your trash.  As you start the hike you will see a small bridge that crosses Sunshine Creek, cross that and the hike has started.
The trail follows the creek, weaving from one side to the other.  There is a pretty good chance your feet will get wet on this hike.  It is less than a mile to the tub.  Watch out for the wedding tree on your way to the tub.
You will find a series of three tubs.  They change depending on the water flow and time of year.  Often there are small dams people build to allow the tubs to fill more.  The water is always very cold, even on the hottest day of the year, but I still love to jump in the water.
If you had only time for one hike in Spearfish Canyon, this is the one to do.  My second favorite has to be Community Caves, a shorter hike you won't forget.