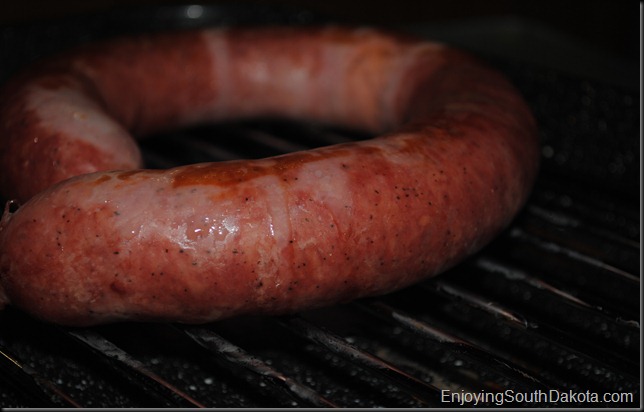 The variety of food you can find in South Dakota is pretty amazing.  More and more farmers, ranchers and gardeners are selling their products locally.
The Bluebird Locker in Delmont SD is a great example.  I remember when I first tried their bacon, simple flavor, thick slices and great taste.  The German Sausage is high quality too.  The first time I cooked it for my family we didn't have to worry about leftovers.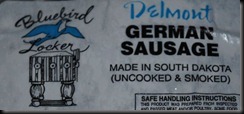 Preparation is pretty simple.  I just boil it in water until internal temperature is about 170.  Then I throw it under the broiler – a few minutes on each side to give the skin a bit of crispness.  And serve with some fried potatoes.  Or, you can prepare it as you would brats.
Where can you purchase Delmont German Sausage?
I bought mine at Coburns in Mitchell.  I've also heard that County Fair in Mitchell carries some of the Bluebird Locker products as well.
Where do buy your Bluebird Locker products?
If you love German food and find yourself in the Black Hills don't miss lunch at the Alpine Inn in Hill City.  The sauerkraut and German potato salad are just perfect.