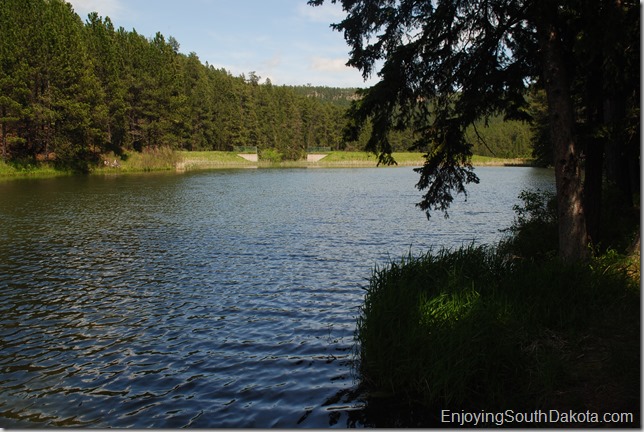 Dalton Lake is a nice little recreation opportunity tucked away in the Northern Black Hills of South Dakota.  The area has the small lake, a small picnic area, a 10 spot campground and a trailhead for the Centennial Trail.
There are just three picnic sites at Dalton Lake.  A great place to spend an afternoon, enjoying some food and hanging out by the small lake.  There are also toilets available.  The South Dakota Game, Fish and Parks does stock the lake with Rainbow Trout from time to time.  Be sure to have a license and know the regulations before you throw a line in the water.
There is water available during the summer months.  The small campground does not have electric or water hookups.  However, each spot has a fire ring and they are all close to the lake.
   You cannot make reservations at this campground, so you make want a backup location if you plan on staying during a busy weekend.
Dalton Lake is also a trailhead for the Centennial Trail.  This is an access point for the 111-mile trail that cut through the middle of the Black Hills.  It starts at Bear Butte State Park and ends in Wind Cave National Park.
This recreation area is located south of Sturgis SD.  You turn east off of Vanocker Canyon road on to Forest Highway 26.  You'll find Dalton Lake about 6 miles down that road.
This is just one the many great lakes and reservoirs in the Black Hills that you should checkout.   And, the Mickelson Trail is too far away either.  Just be sure you have a good map like the Black Hills – Northeast, South Dakota Trails Illustrated Map #751
and plenty of food and water.