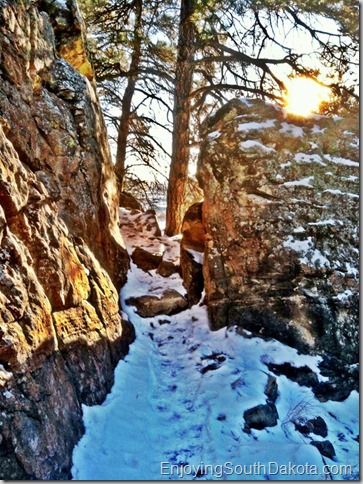 There are tons of recreational options around Rapid City for hiking in the winter or any other time of year.  But, the really cool thing about Rapid City is that you don't even have to leave the city limits to do some really great hiking.  You can find 300 acres right in town for you to explore.
I spent some time in Rapid over the holidays, I wanted to do some hiking and did have enough time to head out into Black Hills National Forest.  So I went to M Hill, aka Cowboy Hill, aka HLMP.   Parking and access to the trails can be found just off Omaha Street at Founders Park. Map Here and here
The trails were snow packed, but not too slippery, I do wish I hadn't left my Kahtoola Microspikes
back at the hotel.  The extra traction would have been nice, but I still enjoyed the trails.   There are nearly 20 miles of trails to explore.  Trails you travel on foot or with your bicycle.  If you live in or spend time in Rapid City I encourage you to check our this park.  There are sections of the trails where you'd swear you are miles from town.
The park has great bouldering options too.  Vegan Rock is just one of the popular spots for rock climbers.  Spend some time outdoors and if you are in the Spearfish area they have a similar type of park called Lookout Mountain Park – also worth your time.