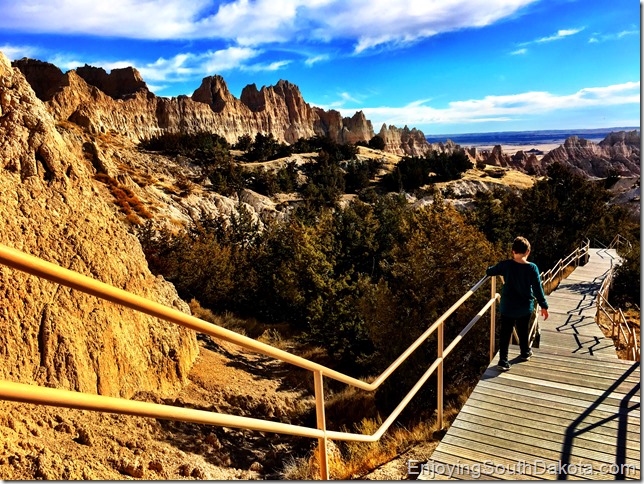 The Cliff Shelf Nature Trail is a great way to explore the Badlands. It is only one-half mile and offers great views of the White River Valley. The trailhead and parking area is located about one mile north of the Ben Reifel Visitor Center. It is a loop trail and the trail is a combination of boardwalks, stairs and wide gravel paths.
The unique thing about this portion of the Badlands is the vegetation. The Cliff Shelf Formation directs rain water to the area, this allows for more plants than other portions of the park. It feels kind of like an oasis. It is also popular with birds, over 100 bird species have been identified in the area.
The trail is pretty easy, the elevation change is about 300 feet. I image most people can hike it in about 20 to 30 minutes. The trees can provide some relief from the daytime heat of the badlands.
My daughter and I hiked it on a beautiful day in mid November. I was surprised by the number of birds we noticed along the trail. Plus, we really enjoyed the vistas of the area. There are plenty of benches along the trail, great places to stop and appreciate the unique natural beauty of the badlands. If you only hike one trail in the Badlands, this is the one.
Always be on the lookout for wildlife and give them plenty of space. Poison Ivy can also be found in the area. Watch for rattlesnakes. Always carry water, it can be easy to get dehydrated.