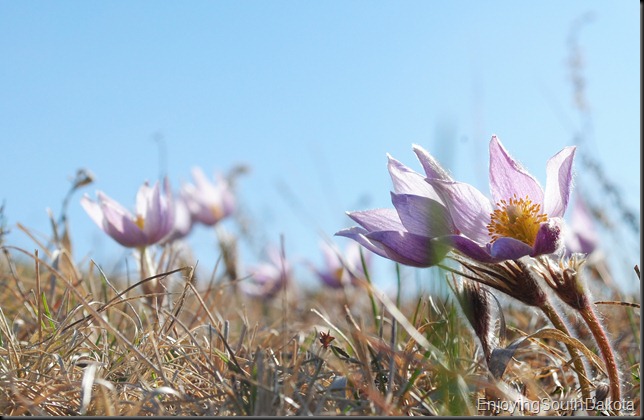 The Pasque also called pasqueflower or prairie crocus is South Dakota's state flower and one of my favorite signs of spring.  I've loved these flowers since I was a kid, watching these little purple flowers come to life in our pasture on the farm near Mitchell.  I remember feeling very proud as a child knowing the State Flower grew on my farm.
Now, I still get to enjoy them living in Deadwood.  I've found large patches of the state flower while hiking up to White Rocks.  And, I've heard people see them throughout the Black Hills.  I seem to find them most often on north facing slopes and meadows.  Wind Cave National Park is said to have lots of prairie crocus too.
I found it interesting that according to my copy of Plants of the Black Hills and Bear Lodge Mountains
the pasqueflower can be poisionous because it can slow the heartbeat.  Native peoples have used to speed up childbirth and to treat pain.
The official  two species are considered the state flower: Pulsatilla hirsutissima and Anemone patens.  They are considered for the same genus, as Anemone is a subgenus of Pulsatilla (according to wikipedia).
Where have you found the South Dakota State Flower?