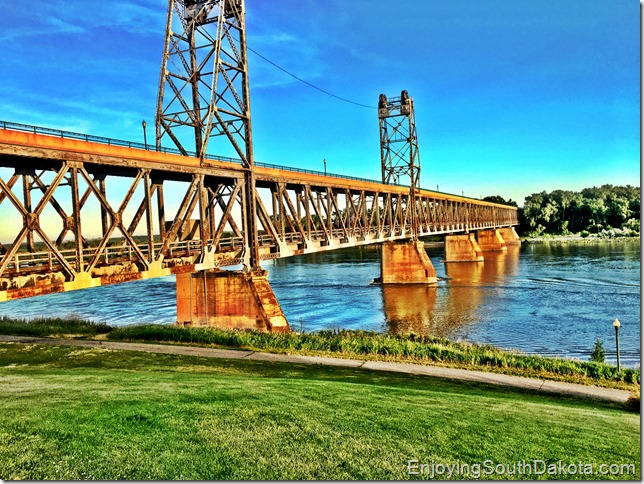 The Meridian Bridge in Yankton is a great place to get close view of history and take a nice walk. The bridge was opened to foot and bicycle traffic in 2011. Vehicle traffic now crosses the river on the Discovery Bridge. From the upper deck, you really get nice view of the area. One can't help but notice all the "locks of Love" on the bridge too.
The Meridian Bridge was completed in the summer of 1924. Prior to that, a ferry service was used for river crossings. It is a unique double decker bridge. The top was intended for automobiles and the bottom for rail traffic.  It also had a lift in the middle to allow river traffic to pass. It was a toll bridge until 1953. The bottom portion of the bridge was eventually converted for use by automobiles and each level carried one way traffic. If you are bridge buff, be sure to check out the "double barrel" bridge in Chamberlain.
This is a nice areas to spend some time and walk around, perfect for families. Other than walking across the bridge to the Nebraska side, there is more to explore at the Meridian Bridge Plaza area. There are beaches, a splash pad, fountains, sculptures and more.
If you are up for more walking. Lewis and Clark Recreation areas offers the Gavins Point Nature Trail and Chalk Bluff Trails.