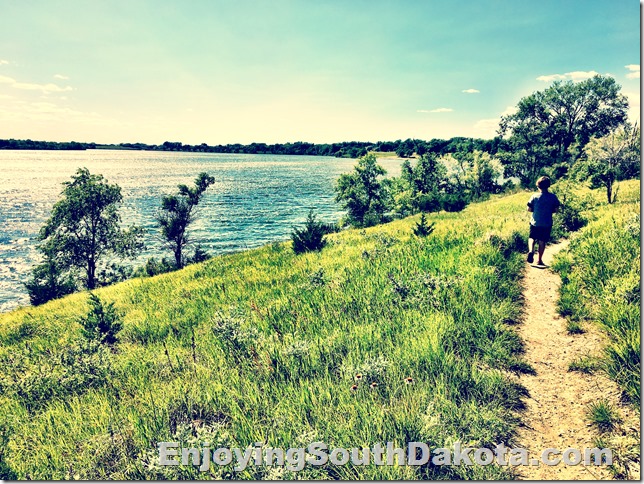 Yes, you can find hiking and biking trails near Mitchell South Dakota. And, yes they are good trails. It is really nice to have some outdoor recreation options so close to town.
There are some decent options:
The Kiwanis Trail is Located on the south side of the lake near the corner of West 23rd Ave and Indian Village Road. There is a couple of miles of single track and a BMX Pump Track. Here is a good map.
The Camp Arroya Trail surround the camp on the north side of the lake located on North Harmon Drive. There is just over a mile of trail that connects with Celia Pines Trail on the east and Sandy Beach Trail on the west. Here is a map.
Celia Pines Trail, named after Celia Kelly, is a small forest established in 1932. Nine acres of ponderosa pine and about 3/4 mile loop trail make a nice little trail. It connect to the Arroya Trail. Here is a map.
Firesteel Trail is a mile long loop trail located on the west end of the lake. It is near West Harmon Drive. There is a map here.
Sandy Beach Trail is about 2 miles. It connects on the East to the Camp Arroya Trail and on the west to the city bike path. Here is a map.
West Launch Trail is on the southwest side of the lake. It is about 2 miles long and connect to the city bike path and the Firesteel Trail. Check out the Map.
Turtle Trail is near the intersection of North Ohlman Street and Indian Village Road. About a mile of trail with a loop. Map is here.
The trails are always improving. Groups like the Palace City Pedalers really work hard to build and maintain these trails.
More Information: