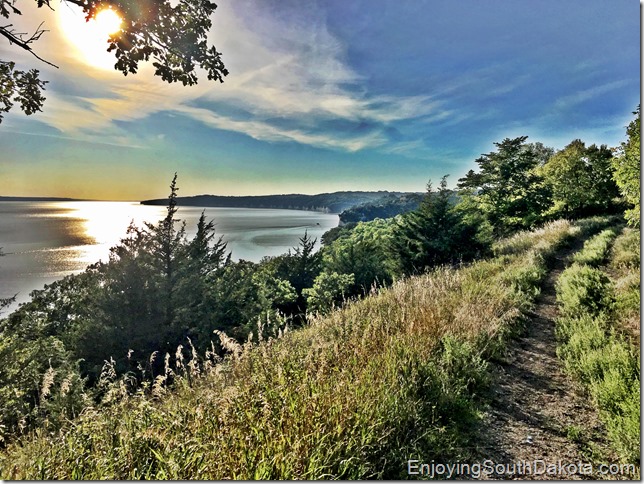 There is a really great hiking trail about 7 miles west of Yankton. The Chalk Bluffs Trail is open to hiking, mountain biking and horseback riding. You'll find it located in the Lewis & Clark Recreation Area. It is a South Dakota State Park, so you'll have to pay a day fee or have a state park sticker.
Hiking this trail can be adjusted depending on how far you'd like to hike and your ability level. Loop A is 1.5 miles, Loop B is 3 miles and Loop C is 4.1 miles. I Hiked loop C on an early September day. It was about 70 degrees with a light breeze. I happened to be working in Yankton and knew it was just too nice to head back home at 5 o'clock. I'm glad I took the time to hike this trail.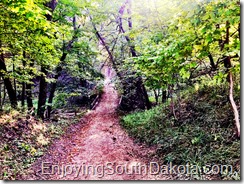 The trail is rated very difficult. It is very hilly and the trail is loose in some spots. I could see the trail being "greasy" on rainy days. After I completed my hike, my iPhone health app indicated I'd climbed 82 flights of stairs (and my legs were a bit sore the next day). The day I was there, flies were terrible. When ever I stopped there just tons of flies landing on me. I spoke with a  local resident on the trail and she said it doesn't happen too often, so don't be dissuaded by the flies – I'd still hike it again with or without flies.
There is a lot of up and down on the trail. You are afforded many great views of Lewis and Clark Lake, plus the trail takes you down into little gullies located along side the lake. I just really enjoyed the trail, but it is a workout. There is a vault toilet at the trailhead. No water or services are available along the trail. Bring plenty of water and snacks.
I'm going to try and make it back when the leaves have turned this fall, I bet it is a great autumn hike. Also, I wonder if the parking lot is kept open in the winter? I think it would be fun to snowshoe there.
If you are wanting a hike that is less strenuous, the Gavins Point Nature Trail is located near by. The South Dakota Game, Fish and Parks has a good map of the trail here. And, visit the official website of the park to learn about camping and other activities located here.