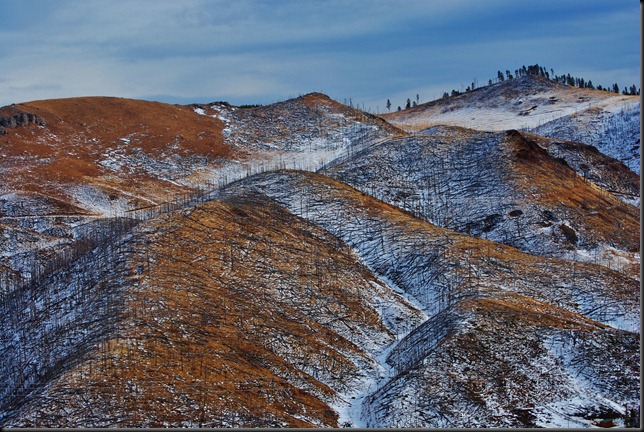 The landscape around Deadwood quickly changed on June 29th, 2002.  The Grizzly Gulch Fire sprang up and filled the air in the Northern Black Hills with smoke.  When all was said and done over 10 thousand acres burned, over 20 structures burned (7 of those were homes), and thousands were evacuated.
I had just moved to Deadwood.  I was working in Rapid City at the time and it was difficult not knowing if my house would be there when I returned.  I remember the day I returned.  The hillsides were still smoldering and smoke was thick in the air.  Fortunately, the presidential neighborhood was spared.  The photo above (taken 1/21/2012), however, was taken just over the ridge from my neighborhood,  I've been told if the wind hadn't changed the hillside I call home would look much like this.
Fires are good for the long term health of the forest and now this area will provide grass for deer and other animal.  Plus, Deadwood now has a buffer from future fires.
Looking at the picture, I have to image the hills looked something like that when the prospectors named this little gulch "Deadwood."
Feel free to share your memories of the Fire below