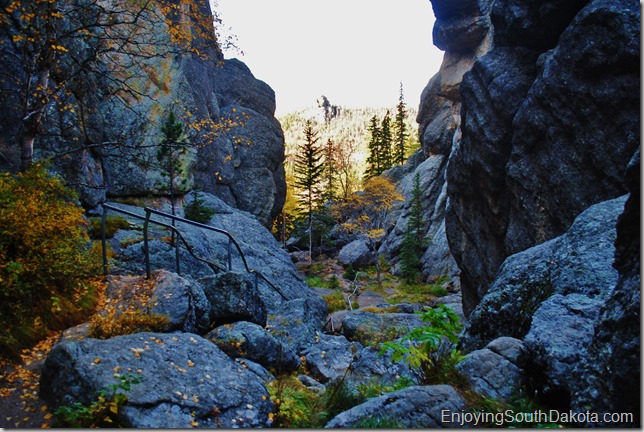 If you only have time for one hike in Custer State Park, I would recommend Sunday Gulch Trail.  On this trail you will climb among huge granite boulders and have beautiful vistas of the park.
The trail begins behind the dam at Sylvan Lake.  It then descends  down Sunday Gulch.  It is a loop trail about 3 miles long.  However,  If you don't have the time or energy to hike the loop, the most scenic part is the beginning of the trail.
The gulch doesn't receive a lot of direct sunlight and can be icy all the way into June.  Plus, remember the hike is all uphill coming out of the gulch – so know your own ability.
As with any trail in the Black Hills, be alert for changing weather.  Bring plenty of water and snacks.  Watch your step and take breaks as needed.  Custer State Park has many amazing places to explore, and Sunday Gulch should be a the top of most visitors list.

Black Hills and Badlands on Dwellable