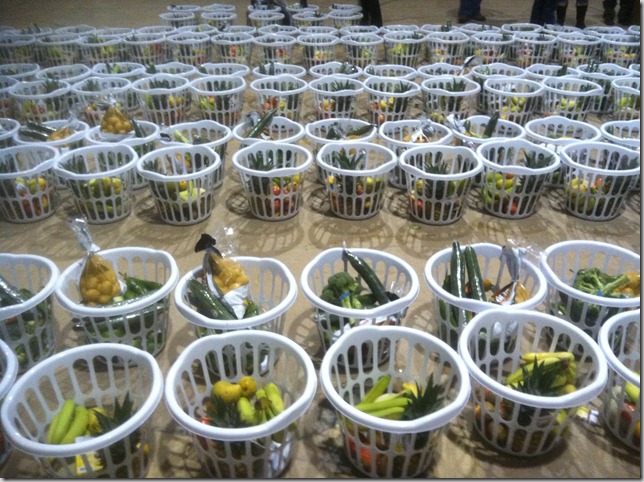 The Bountiful Basket Co-op continues to grow in leaps and bounds in South Dakota.  It started out with just a handful of locations and has grown to about 20 pickup locations.  This is a great program that delivers produce for a reasonable price.
The basket is about half vegetables and half fruit.  You can upgrade to a completely organic basket if you'd like.  There are generally extra packs available each week.  The extra packs include, Italian veggie pack, Asian veggie pack, whole boxes of fruit or berries.  It varies each week and is kind of exciting to see what is offered.
Getting Started with Bountiful Baskets
It is pretty simple.  Start by opening a new account.  Then you'll probably want to read over the new participant instructions a few times.
Then be prepared for Monday when the offerings post.  That is when you can logon and place your order.  Some sites sell out in less than 10 minutes – so be prepared.  Also, keep in mind most sites have deliveries every other week.  If there are no offerings for your site, you may have to wait until the following week.
Sites are run by volunteers.  And, it is the hope of the organization that all participants will volunteer from time to time.  It is kind of fun to help unload the truck, then sort the produce into the individual baskets.
South Dakota Locations
Black Hawk – both A and B weeks
Box Elder – both A and B weeks
Camp Crook – week A
Custer – week A
Deadwood – both A and B weeks
Faith – week B
Hot Springs –  week B
Ludlow – week A
Martin – week B
Newell – week B
Rapid City – both A and B weeks, plus two locations
Spearfish – week B
St Onge – week B
Sturgis – week A and B
Union Center – week B
Wall – week B
Check the locations page frequently to ensure pickup locations and times have not changed.  You have 20 minutes to pickup you basket or it will be given to charity.
This is really an exciting program.  I find I am trying new recipes because I end up with produce I wouldn't normally buy.  It is a lot of fun searching for Bountiful Basket Recipes.
In the Black Hills, bountiful baskets is not the only way to get fresh produce at a great price.  Consider finding a CSA or visit local farmer's markets like the Red Barn Market in Spearfish.