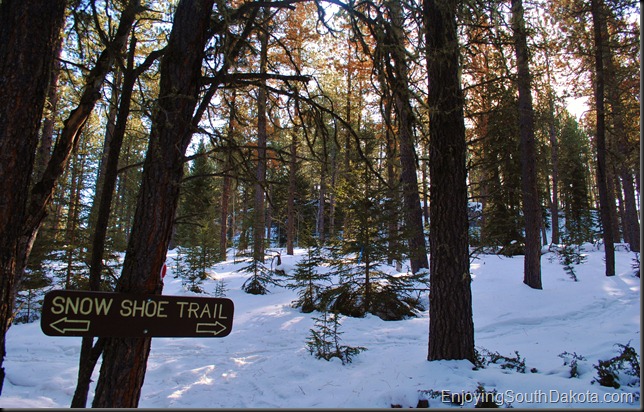 I finally got out my snowshoes today.  It is already the first of February and I hadn't been out yet.  We haven't had a lot of snow in the Black Hills, but there is plenty in the higher elevations.
Eagle Cliff Trails
are a perfect place to do a little winter hiking.  The area was originally designed for cross-country skiers, however they have developed some snowshoeing trails in the last couple of years.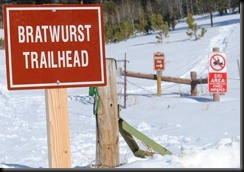 Both trails leave from the Bratwurst Trailhead, one is a double loop and the other takes you to the Lily Park Trailhead.  The  trails are well marked and easy to follow.  There is a bit of elevation gain here and there – so you will get your heart pumping a bit.
There is a groomed cross-country ski trail in the area.  Be sure to stay off of it with your snowshoes.  The snowshoes tear up the trail and make it difficult to cross-country ski.
There are plenty of options.  Just grab one of the maps at the trailhead and explore the area.  Enjoy the mix of meadows, trees and limestone outcroppings.
How do you get to Eagle Cliff Trails
Head south out of Lead on US Highway 85 and you'll see the trailhead in 15 miles.  If you are in Spearfish Canyon.  Turn right at Cheyenne Crossing and you'll be there in 7.2 miles.

Lead on Dwellable
I recommend you pick up a copy of Exploring the Black Hills and Badlands: A Guide for Hikers, Cross-Country Skiers, & Mountain Bikers
there is a map of this area and great maps of other places you can explore in the Black Hills of South Dakota and Wyoming.
Eagle Cliff Trails Video
Enjoy this little peak of what you will find when snowshoeing the trails.