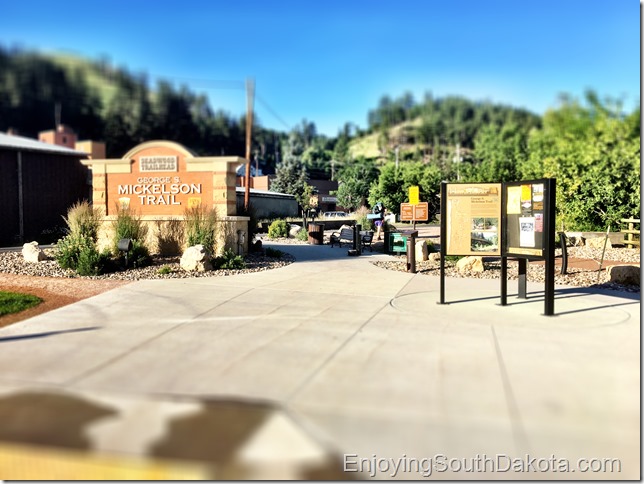 The north end of the Mickelson Trail is found in Deadwood. The trailhead is right in town. There is a large parking lot and access to fresh water. Use of the trail in city limits is free. However, to use the trail out of town purchase a pass at the trailhead or online.
You can depart from here, but I love this to be the end of my ride. If you can find someone to give you a ride to the Dumont Trailhead and then ride back to Deadwood. It is downhill most the way. And, then you'll have some energy left to enjoy Deadwood's nightlife.
The whole trail is really neat. It follows an old rail road bed all the way from Deadwood to Edgemont. 109-miles right through some of the most beautiful areas of the Black Hills. If you plan on exploring much of the trail you may find The Mickelson Trail Guide Book useful.
The Deadwood Trailhead of the Mickelson Trail is just north of the hospital and very near the Taco John's (incase you get hungry). It is a short walk from the downtown area and it really is a nice ride or walk. And, don't forget there is loads of great hiking in the Deadwood area.