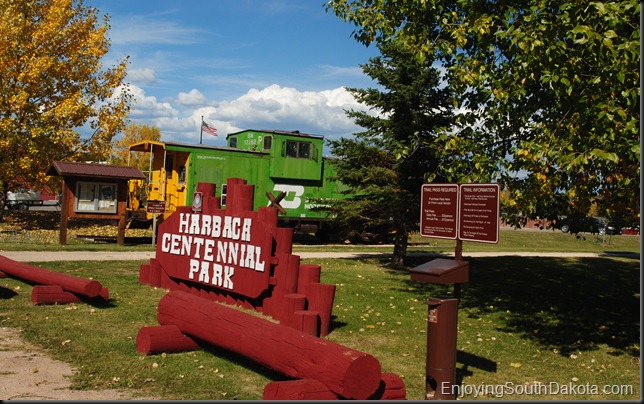 This is the trailhead you will use if you access the Mickelson Trail from Custer SD.  Harbach Park is the the site where Horatio Ross (a member of the Custer Expedition) discovered gold in 1871.
You will have a few options from this trailhead.  Take the spur out to Gordon Stockade and then on to Stockade Lake.  Travel 5 miles north on the trail to The Mountain Trailhead – which has views of Crazy Horse Monument.  Or, travel south 9.7 miles to White Elephant Trailhead (and another 3.6 miles to Pringle Trailhead).
This could be a good spot to end your day on the trail.  The trailhead is in the center of Custer South Dakota.  Many hotels and restaurants are just minutes away.
If you are going to be spending time on the Mickelson Trail or any of the other trails in the Black Hills I would encourage you to carry the Black Hills National Forest Map Pack: Topographic Trail Maps
.  These maps are easy to read and have all the trailheads clearly marked.  Also, a nice trail guide like Exploring the Black Hills and Badlands: A Guide for Hikers, Cross-Country Skiers, & Mountain Bikers
is handy for planning outings.  Or, the Moon Mount Rushmore & the Black Hills
covers everything you need to know for your trip to the Black Hills.