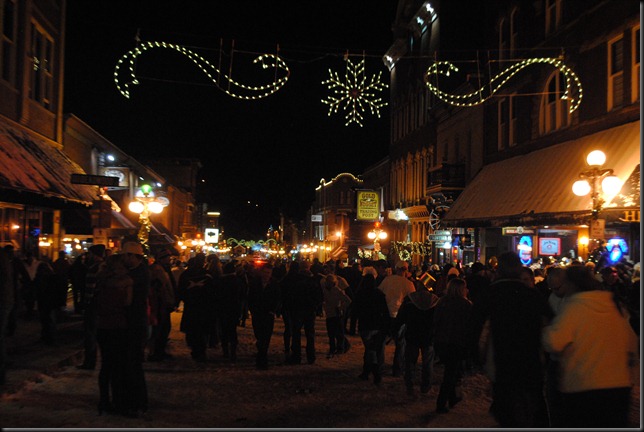 2012 started in typical Deadwood fashion,  the little Northern Black Hills town was filled with party goers welcoming the New Year.  Hundreds gathered for the ball drop outside the Franklin Hotel.
This is just the beginning of another exciting year in Deadwood. Great Events are planned all year.  If you are planning a visit to the Black Hills in 2012 you may want to time the trip so you can enjoy one of the following:
Mardi Gras – February 10th and 11th.  Deadwood's own celebration, two-parades, Cajun cook-off and just lots of fun.
Saint Patrick's Day –  In Deadwood they celebration all weekend long.  March 16th and 17th 2012.
Wild Bill Days – June 15th and 16th.  Two nights of free Main Street Concerts.  Fast Draw competitions and more.
Sturgis Motorcycle Rally – This exciting yearly event spill over into Deadwood from Sturgis.  Bikes are allowed to park on Main Street. August 4th through the 14th.
Kool Deadwood Nights – Enjoy Deadwood when the days are still warm, but the nights begin to cool off.  This is a celebration of cars and music from the 50's and 60's.  Free Main Street Concerts two nights.  August 23rd through the 26th.
Deadwood Jam – Two days of Concerts right in the heart of Deadwood.  September 14th and 15th.
Oktoberfest – October 5th and 6th.  Roll out the barrels of fun!  This event becomes more popular each year.  Free bratwurst, wiener dog races and German music.
Deadweird – October 27th, See amazing Halloween costumes as people compete for cash prizes.