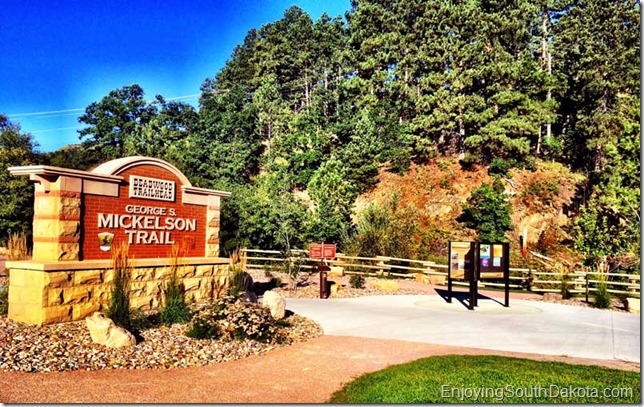 The Northern end of the George S Mickelson Trail can be found in Deadwood South Dakota.  This is a 109-mile trail that slices right through the middle of the Black Hills.  A great way for walkers, runners, bicycle riders and horseback riders experience the beauty of the area.
The trail is a converted rail road bed and just beautiful all the way to Edgemont.  If you ride the whole trail you will cross more than 100 bridges and travel through 4 rock tunnels.  Use of the trail is free within city limits, but otherwise requires a pass you can purchase at the trailhead or online.  You can even snowshoe on portions of the trail, then Englewood Trailhead is great for snowshoeing.
If you are up for a long ride, I would encourage you to get a ride to the Dumont Trailhead.  From there the 16 mile trip is mostly downhill.  A nice ride through the beautiful Northern Black Hills.
Other Recreation Options
There are plenty of other great outdoor recreations options in the Deadwood area too.  Something for almost everyone.  Short hikes, long hikes and even scenic drive.
Mount Roosevelt is just a few miles from town.  This is a short loop hike.  It takes you to Friendship tower and amazing views of the surrounding Black Hills and plains to the north.  Watch my YouTube video to see how to drive to Mount Roosevelt.
Hiking to White Rocks will give you a bird's eye view of Deadwood and the surrounding hills.  You can even see Bear Butte from up there.  My favorite way to go through Mount Moriah Cemetery and continue up to Seth and Martha Bullock's grave, then head to the top of the hill, if you are not out breath, the view will take your breath away.  There is a geocache up there too.
Spearfish Canyon is just a 20 minute drive from Deadwood and really cool waterfalls and plenty of hiking.
Devils Tower is over an hour drive away.  I feel it is worth the drive.  It is really an amazing natural feature and the nation's first National Monument.  There are several hiking options too.
Centennial Trail starts at Bear Butte and ends 111 miles later in Wind Cave National.  Like the Mickelson Trail, it is a great way to explore the Black Hills National Forest.  The Fort Meade and Alkali Creek trailheads are the closest to Deadwood.