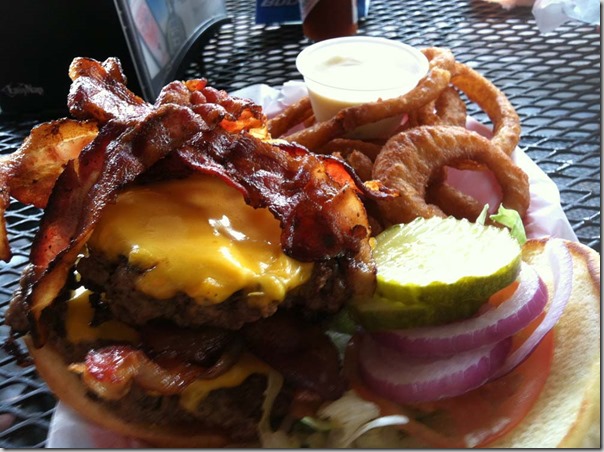 You can find lots of great burgers in the Black Hills, and Lewies's in Lead is definitely one of those places.  This great burger joint is located on the South side of Lead on US Highway 85 not far from the Sugarloaf Trailhead of the Mickelson Trail.  You no longer have to wonder where to eat in Lead SD.
We enjoyed sitting out on the patio enjoying a beautiful Black Hills summer day but, they are open all year long.  Whether, you are on your way to or from the slopes or  just finishing up a great bike or motorcycle ride – this is a great place to eat.
I enjoyed the bacon double cheese burger pictured above.  It was good and I was full.  The onion rings were great too.
This is among my favorite places to grab a burger in the Northern Black Hills.  I also love Mustang Sally's burgers on Main Street in Deadwood.  And, the Sugar Shack on US Highway 385 has really good burgers too!
Where do your get your favorite burger in the Black Hills?