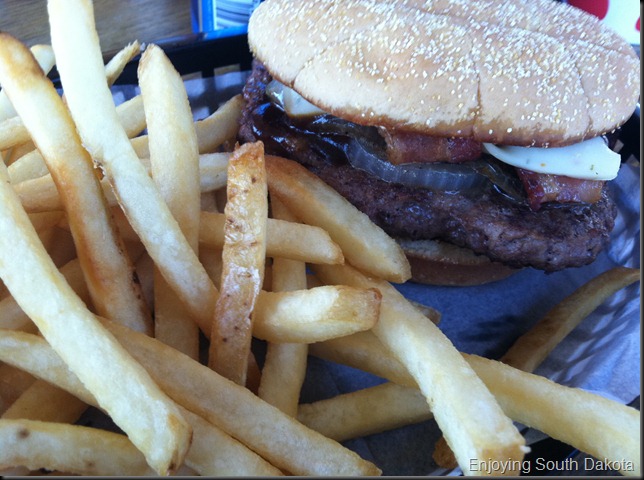 If you find yourself out enjoying the Black Hills and hunger hits – where do you go?
Well if you are anywhere near Pactola Lake, head for the Sugar Shack.  There you will find thick, juicy 1/2 pound burgers and great fries.  Plus, when the weather is nice you can enjoy a cold beverage and your burger on the outdoor patio.
Pictured above is the Bubba Burger.  That tasty burger is loaded with bacon, pepper jack cheese,  grilled onions, jalapenos and BBQ sauce – finger licking good!  The burgers come with chips, however I usually pay the extra dollar to have fries instead.
Other burgers to try: the Sugar Burger, Swiss Mushroom Sugar Burger and the Kraut Burger. You'll find these burgers at the Sugar Shack about 20 miles south of Deadwood.  Or about 4 miles north of the intersection of Highway 385 and Highway 44.