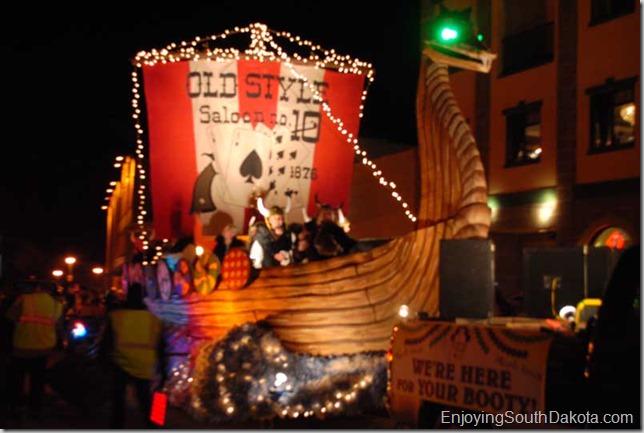 There is no shortage of Events in Deadwood, plenty of opportunities to enjoy yourself in the small Northern Black Hills City.  It seems you can always find something fun to do in the area.
Ringing in the new year in Deadwood always a great way to celebrate the start of a new year.
ISOC Snocross Championships January 31st and February 1st 2014
Largest Tailgate Party is South Dakota – watch the super bowl – February 2nd
Deadwood's Mardi Gras Celebration Feb 28th through March 1st 2014– don't miss the parade!
Saint Patrick's Day celebration – March 14th and 15th 2014 – best St Paddy's day celebration I've every been to.
April 10th, 11th and 12th 2014 – Forks, Corks and Kegs – a food and wine festival
Wild Bill Days – June 13th and 14th 2014 – Music and much more
Days of '76 Rodeo and Parade – July 22nd through the 26th 2014 – Rodeo fun and really cool parade.
Sturgis Bike Week – August 2nd through the 10th 2014 – bikes take over Deadwood
Kool Deadwood Nites – August 21st through the 24th 2014 – Classic Cars and Music
Deadwood Jam – September 12th and 13th 2014 – Great Music in the heart of Deadwood
Oktoberfest – October 3rd and 4th 2014 – Roll out the barrels and brats
Wild West Songwriter's Festival – October 9th through the 11th
Deadweird – Halloween in Deadwood is like nowhere else – October 31st and November 1st 2014.
If you have any plans of visiting the Black Hills in 2014, consider spending a bit of that time in Deadwood.  Be sure to visit the Deadwood Chamber of Commerce website for complete details of all the events.