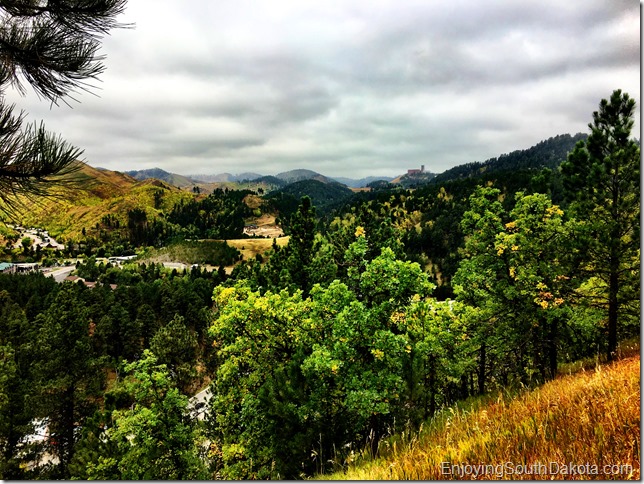 There is a great hiking trail connecting Deadwood and Lead. The Homestake Trail is about 3 1/2 miles and is a great way to see nature and some of the mining and railroad history of the area.
I always though it would be great if there was a trail that connected these two cities in the Northern Black Hills and this trail exceeds my expectations. There are a few strenuous portions from elevation gain, but the majority of the trail runs along a ridge line. You really get some fantastic views of the area. This trail was developed by the Northern Hills Recreation Association. They have a nice trail map here.
If starting in Deadwood, begin at the Mickelson Trail Trailhead. As you start out of town on the trail there will be a sign (less than a 1/4 mile from the start) for the Homestake Trail. The old railroad bed will take you up McGovern Hill. There is a lot of private land and homes in this area, please stay on the trail. The trail will follow the ridge line for a good portion of the hike now. As you near Lead, you will cross Mine Street. After that, you will see the old Homestake Mills and the B&M Headframe story on a sign. You will have a nice view of the open cut and then descend to the the dog park. That is the end of the trail, or the starting point if beginning in Lead.
While in the area, the Visitor's Center at the Open Cut is certainly worth a visit. The place is a treasure trove on the area's mining history. The pictures, displays and videos are really interesting. The history is just amazing.
I always love a good burger after a hike. If you end in Lead Lewie's is always a good bet. And, if Deadwood marks the end of you hiking it is hard to beat Mustang Sally's.
There is plenty more hiking in the Deadwood area. Mount Roosevelt and Friendship tower is just North of  town. Spend some time exploring Mount Moriah (Deadwood's boot hill),then hike to the grave of Seth and Martha Bullock. If you still have some energy , you might as well hike all the way to White Rocks.
Always carry plenty of water and snacks. The weather changes quickly in the Black Hills, so be prepared.