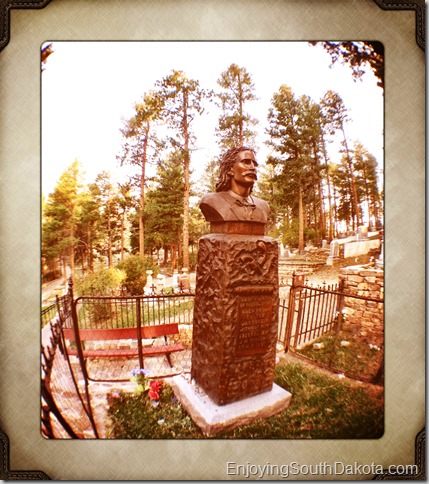 Wild Bill Hickok's grave site is found in Deadwood's Mount Moriah Cemetery.  This quiet hillside is home to many of the founders of the area.  Poor Wild Bill didn't get to spend much time above ground in Deadwood South Dakota, but he still gets lots of visitors.
He is famous for being shot in the back of the head by Jack McCall.  And, now for eternity lies next to Calamity Jane.  Most of the bus tours that leave from Main Street will bring you here.
This cemetery is certainly worth checking out.  If you don't mind climbing the hill a bit further, you'll find the Grave of Seth and Martha Bullock.  From their grave, you can see across the gulch to Mount Roosevelt.  If you still have energy left climb all the way to White Rocks for a breathtaking view of the area.
If you don't have the energy to climb the hill, there is plenty to see near Bill's Grave.  Masonic Circle isn't far from Wild Bill and is a collection of about 18 grave.  The final resting place of many interesting people who helped shape Deadwood.
For you history buffs, I recommend a couple of books: Mount Moriah: Kill a Man…Start a Cemetery
and Raiding Deadwood's Bad Lands
.  Both book were written by locals with a passion for the wild history of Deadwood.
Don't forget Deadwood's lesser know Cemetery, Saint Ambrose.  This quiet hillside collection of graves is just across the gulch, nestled in between Spring Creek Road and Burnham Avenue.  Probably best way to access is to park in the Lower Main Parking lot and walk across the street.  Take Burnham Avenue and turn left on Pleasant Street.  You can't miss it.