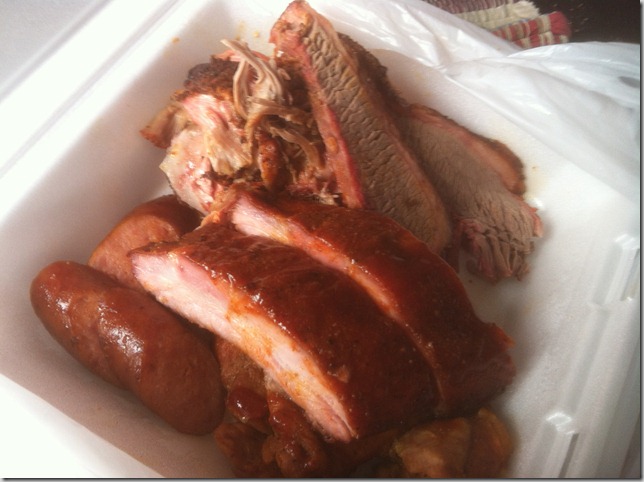 I've talked about Jakes BBQ in Rapid City before.  However, it is worth mentioning again.   This place is a great barbeque joint, with great food and good Service.
On my last visit I picked up a couple of the Pig Out Platters.  Basically that is a sample platter of all the meats they have cooking that day.  I lucked out and they had all the meats available.  Tender Sliced Beef Brisket, Smoked Pork, Spicy Sausage, Smoked Babyback Ribs and BBQ Chicken.  All the meats were cooked to perfection and the sweet and spicy sauce was fantastic.
Plus, the platter comes with two sides.   We enjoyed the coleslaw and potato salad.  Other side options include baked beans, potato chips, green chile mac and corn on the cob.
If you want to get some great BBQ in Rapid City be sure to visit Jakes on East North Street.  There is room to dine in or get it to go and head to one of Rapid City's parks.