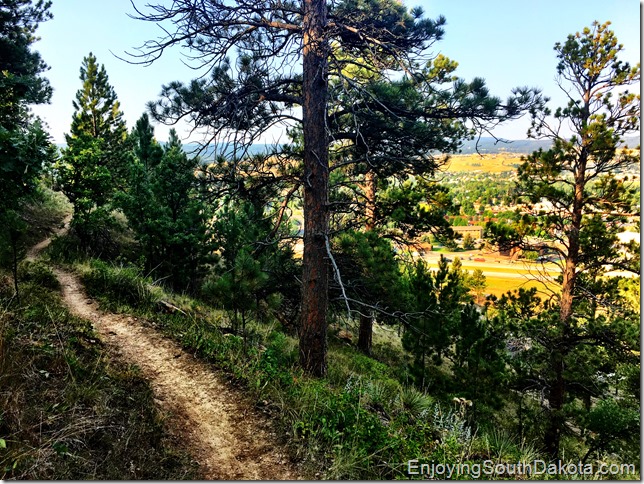 Lookout Mountain Hiking Trail in Spearfish South Dakota  is a great opportunity to enjoy some quality hiking, horseback riding and mountain biking without leaving town. It is over 750 acres of land for pure outdoor enjoyment. Plus, an elevation change of over 800 feet offers a challenge and great views of the area. The trails wind through open prairie, stands of burr oak and ponderosa pine. Wildlife is abundant and that includes rattlesnakes, so be a little mindful when you are hiking in the area.
How to get to Lookout Mountain Park
The best place to enter the park is from the Nevada St entrance(see the map below). It is located on the west side of the park. It has a parking lot and then you traverse a tunnel that goes under Interstate 90. Improvements have been made recently. There are several well marked trails.
Cattle are allowed to graze in the park, so watch your step

.
Trails Include:
Ridge Trail – Tech Essence Loop – 3.5 miles
Blue Steak Loop – 2.3 miles
Les Fun – Duct Tape Loop – 1.2 miles
Hopa Maste – Round the Crown Loop – 1.8 miles
Blue Steak Hiking Trail – 1.2 miles
Minnesota Ridge Hiking Trail – 1 mile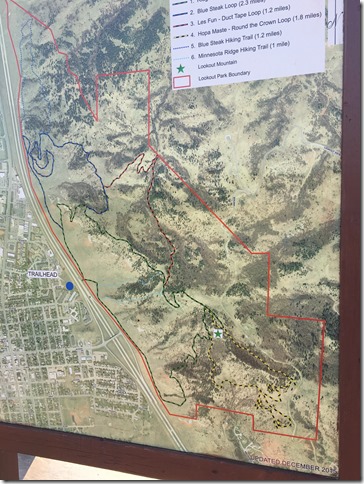 Lookout Mountain Hiking Trail Map
There is a great map of the trail at the Nevada St parking area. I just took a picture with my phone before I started hiking and referred to it during my hike. It is a great area to get in a quick hike or spend a good portion of the day exploring.
There is no water along the trail, be sure to bring your own. Check the weather before you leave, weather can change quickly in Spearfish. Again, watch for snakes and other wildlife.
There is loads of hiking in the area. Spearfish Canyon is just a short drive from Lookout Mountain Park.