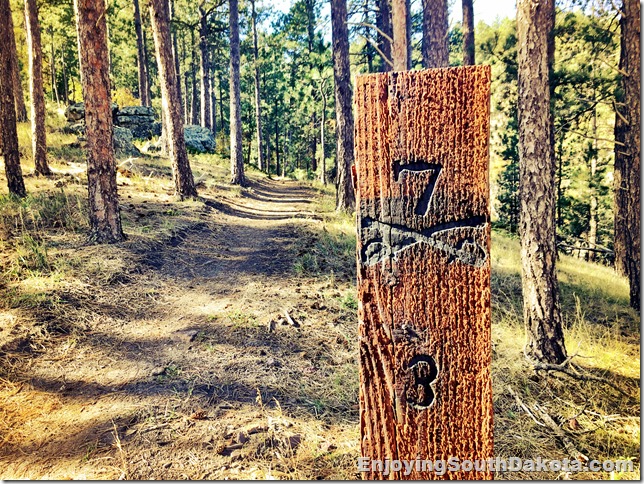 Great hiking, trail running, mountain biking and horseback riding waits near Sturgis South Dakota. The 7th Cavalry Trail System is a great place to get out and enjoy the Black Hills. Over 10 miles of trails in the Fort Meade Recreation Area.
The 7th Cavalry Trail System is a collection of interconnected trails. The Centennial Trail is part of the trail system and it runs right through the middle of the area. There is a great printable map here.  With the different loops, you can make this outdoor fun for a few hours or an all day event.
Trail #3 is access point at the Fort Meade Trailhead of the Centennial Trail. Trail #3 Meets up with Trail #2 (leads to the Lions Park Trailhead) and Trail #4. I enjoyed trail #4 as it offers great views of the city of Sturgis and occasional vistas of Bear Butte and the expanse of prairie to the north.
There is just a lot of options here. Bear Butte State Park is just to the north and the Centennial Trail continues on in the south. And, the Alkali Creek Nature trail is a great short hike.
Trailheads for the 7th Cavalry Trails
Lions Park Just off Lazelle Street
Old Stone Road
More Information