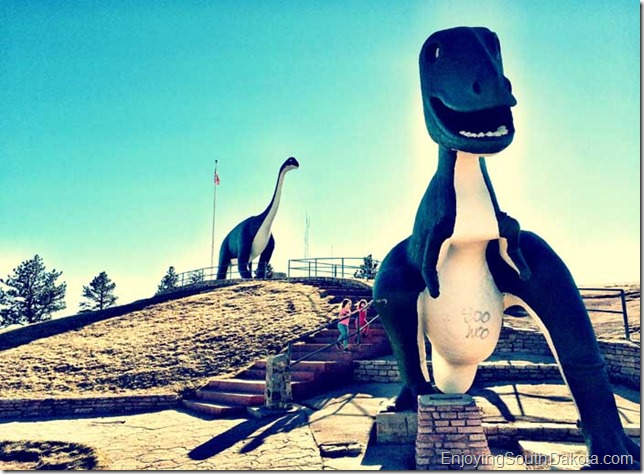 Did you know there are dinosaurs looking over Rapid City?  They've been there for nearly 80 years.  This great free attraction in the Black Hills is a beloved part of Rapid City's skyline.
Dinosaur Park in Rapid City is located at 940 Skyline Drive.  There is no admission fee.  The park is run by the city.  Restrooms and a gift shop are open May 31st through September 6th each year.
My family and I love to stop by this park when we are in Rapid City.  It gives the children a great opportunity to run and play.  Plus, you get a great view of Rapid City and the Black Hills.  Although, there is no cost to visit, you must climb several stairs if you wish to be rewarded with the stunning vista.
The city is near loads of outdoor recreational opportunities, you know, the over one million acres that makes up the Black Hills National Forest.  However, you don't even need to leave the city to get in some quality nature time.  M Hill is located in Hanson-Larson Memorial Park (HLMP).  This is a 300 plus acres park located right in the city!  This is perfect to explore in summer or winter.  With nearly 20 miles of trails, this park should keep you occupied for awhile.
There is plenty to explore in Rapid City, and much of it is free!  If you are a fan of large natural areas in the city I would encourage you to visit Spearfish's Lookout Mountain Park – over 700 acres of wild terrain to explore – right in the city.